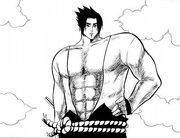 MANSUKE!!!!! THE MANLIEST MAN OF ALL MEN
MANSUKE IS OF GREAT STATURE, THE STATURE OF MANLINESS. STANDING AT A MANLY HEIGHT OF 6'9, HE FLAUNTS HIS CHISLED, MANLY BODY AT THE WEAK. HIS BODY IS OF MASSIVE SIZE, HIS UPPER BODY IS 3 FEET WIDE AND ONE FOOT THICK. HIS ABS ARE CHISLED AND WELL REFINED AS HE SHOWS HIS MANLY 8 PACKS OFTEN. HE WEARS A WHITE ROBE THAT IS ONE SIZE TOO SMALL SO IT CAN SHOW OFF HIS MANLINESS, THOUGH HE TENDS TO KEEP IT OPEN FOR BETTER VIEWING. HIS THIGHS ARE AS THICK AS AVERAGE SIZED TREES. HE WEARS A PURPLE ROBE TO KEEP HIS PANTS ON SO AS NOT TO SCARE THE NORMAL FOLK.
HE IS MANSUKE! MANLIEST OF MEN! PAIN IS NOTHING TO THIS BEAUTIFUL CREATURE BECAUSE AS SAID BEFORE! HE IS THE MANLIEST OF ALL. NOONE COMPARES TO THE MAJESTIC GRACE OF THIS FINE SPECAMIN. THOUGH MANLY IN THE ABSOLUTE HE IS AS GRACEFUL A SWAN IN HIS ELOQUENCE AND IN HIS DICTATION. BEING OF SUCH NOBLE STATURE HE IS OF COURSE ABOVE ALL OTHERS AND WILL FLAUNT OFF HIS ABSOLUTE POWER OVER EVERYONE. TO HIM NOONE IS HIS SUPERIOUR AND HE ANSWERS TO NOONE.
HE DEALS IN ABSOLUTES AND ONLY ABSOLUTES. HE IS NEVER UNSURE OF HIMSELF NO MATTER WHAT THE SITUATION. HE IS A BIG STRONG MAN WHO DON'T NEED NO WOMAN. HE PREFERS THE FINE CHISLED BODIES OF MANLY MEN. ANY MEN WHO ARE NOT MANLY MEN ARE NOTHING TO HIM AND HE WILL SHOW HIS DOMINANCE BY QUICKLY MOUNTING SAID FAILURES AT MAN HOOD AND DRY HUMP THEM INTO SUBMISSION. HE IS MANSUKE, DEFENDER OF MANHOOD AND POWER.
MANSUKE BEING THE GREAT MAN THAT HE IS WILL SOMETIMES HELP THE POOR AND THE WEAK! ONLY TO DESTROY WHATEVER TASK THEY WERE ATTEMPTING TO
PERFORM. TO HIM, THE WEAK ARE USELESS AND MUST BE TERMINATED. ONLY THOSE OF HIS POWER OF REASONING IS AMAZING AND NOT MANY CAN STAND AGAINST HIS WIT WHEN IN A CONVERSATION WITH THIS FINE MAN. ONLY FISH ARE WORTHY OF HIS RESPECT, THEM AND THOSE WHO SHOW HIM THEY ARE MANLY ENOUGH.

WHEN IN CONTACT WITH OTHER MANLY MEN HE WILL ATTEMPT TO COERCE SAID MAN INTO A WRESTLING MATCH, NAKED, IN THE MUD. HE WILL ALSO TAKE THEM TO DINNER AND SHOW THEM A GOOD TIME AS HE LOVES THE ATTENTION